Why you need a mulberry silk face mask?
Silk is the most breathable, comfortable, light weight and luxurious fabric available. A pure silk face mask won't leave you with redness, irritation, maskne and acne breakouts caused by traditional disposable or cotton fabric cloth face masks. Choose real pure silk face mask instead of satin mask!
Why Choose ROSEWARD Mulberry Silk Mask?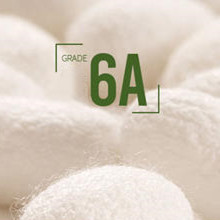 Grade 6A Mulberry Silk
All ROSEWARD silk products use 6A grade level mulberry silk with long silk fiber, the best quality silk that requires the selection of the best quality cocoons that unwind in a long, regular thread.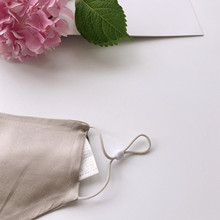 With Filter Pocket
Our silk mask is designed with a filter pocket, which can provide a 3 layer protection if you insert a filter in. The opening for the filter pocket is on the side of the mask, which can perfectly keep the shape.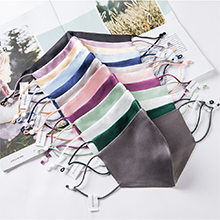 Matching Color Adjustable Ear Strap
We focus on every details of our products. Each ROSEWARD mulberry silk mask is not only handmade with invisible hidden stitches, but also come with same color adjustable ear strap.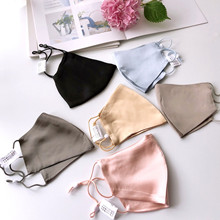 Rich Colors for Women and Men
We focus on every details of our products. Each ROSEWARD mulberry silk mask is not only handmade with invisible hidden stitches, but also come with same color adjustable ear strap.
Indulge Yourself with A Real Silk Mask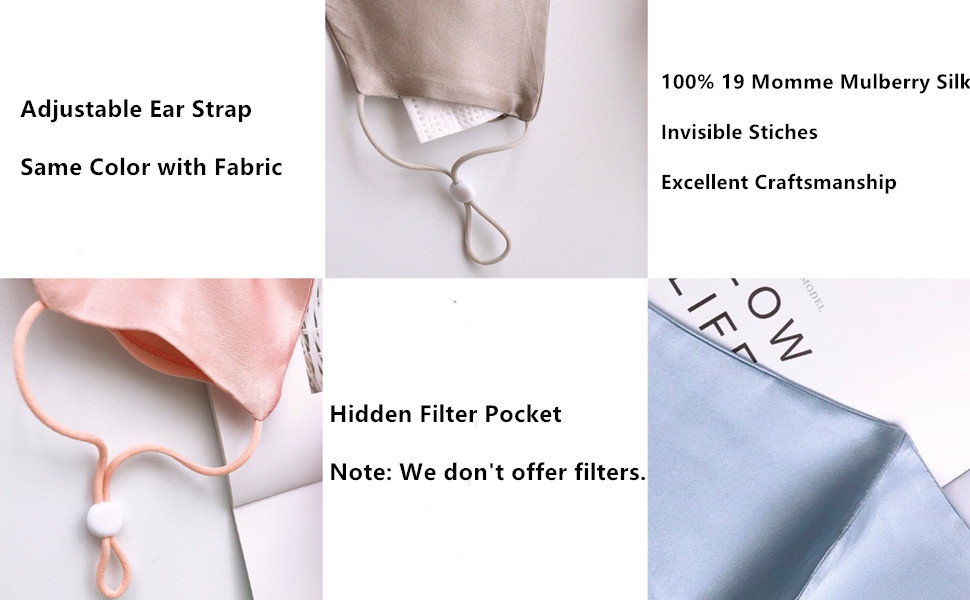 When function meets fashion and beauty...
ROSEWARD silk face mask is reusable, washable, adjustable, comfortable,lightweight, soft, breathable, hypoallergenic and fashionable. All together we have 12 colors. The blackface mask, navy blue face mask, grey face mask, light blue face mask and green face mask are for both women and men, male and female. All other colors are also cute masks for women with fashion designs.
Studies have shown when compared to cotton, polyester, and other fabric masks, silk has been found to be the most protective. Silk is particularly effective (considering their sheerness) at excluding particles in the nanoscale regime (<~100 nm), likely due to electrostatic effects that result in charge transfer with nanoscale aerosol particles.
Use it as a reusable washable adjustable face mask, workout mask, sport mask,cloth mask, running mask, face covering, face protection or outdoor face cloths.It can go well with any outfit you plan to pull off. There are so many occasions for use, such as running, ski, biking, fishing, hiking and all kinds of outdoor sports. You can even wear it in a wedding ceremony. They are designed with two layers of reusable, washable, soft mulberry silk for better breathing,long term use, and all day comfort. You can also add a filter in through the hidden filter pocket on the side of the mask to make it 3 layer face mask. Our silk masks are designed to be a substitute for medical ones, and laboratory testing has shown that on average our coverings do have a better filtration efficiency. If worn properly, they will block the majority of air particle and droplets, keeping them from reaching the mouth and nose.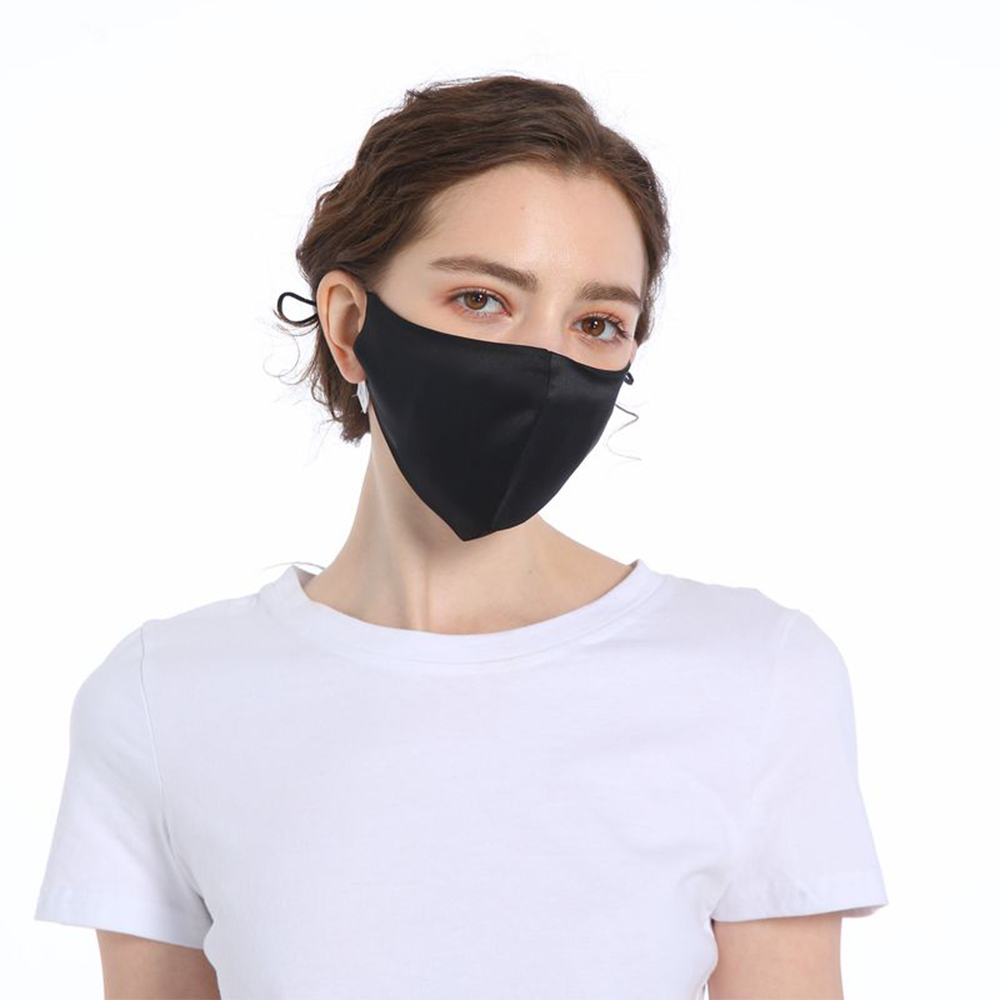 Black
This cool black silk face mask is for both women and men. A perfect gift for her or him.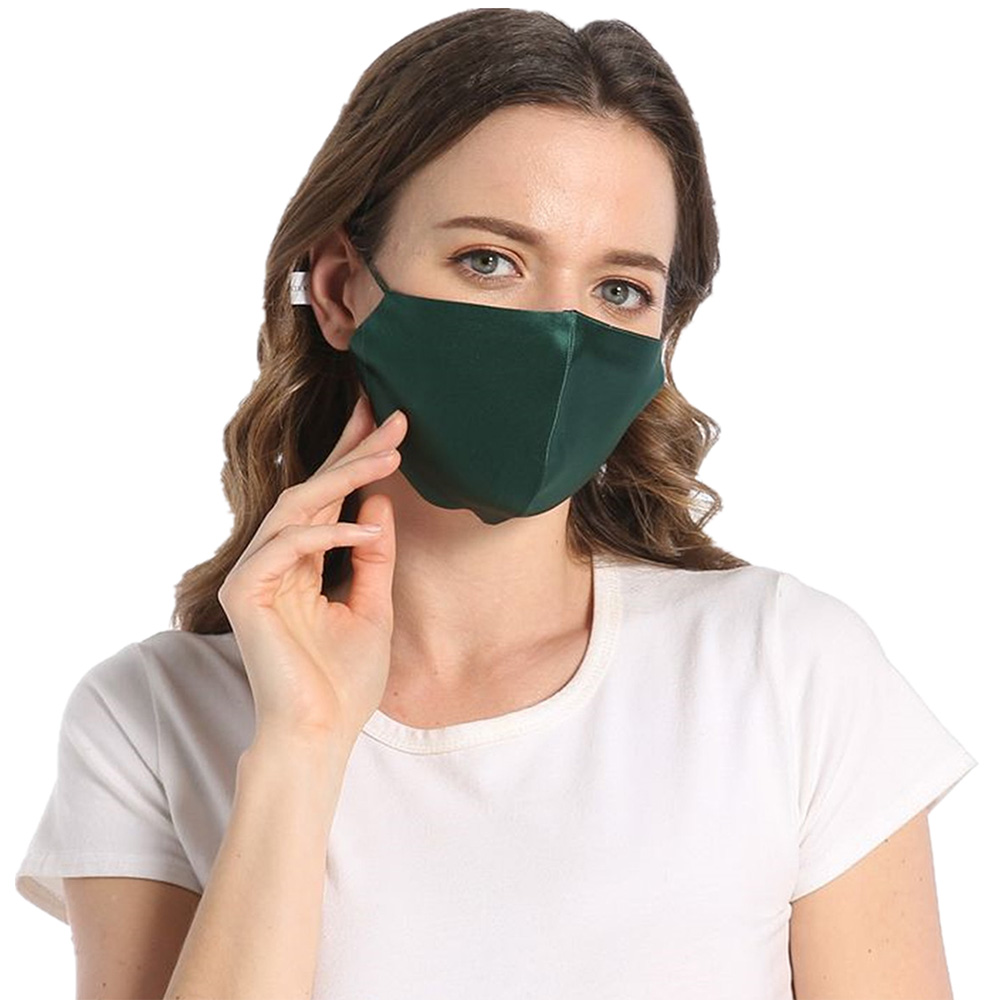 Ribbon Green
You'll love this emerald green face mask! It looks so great on your face.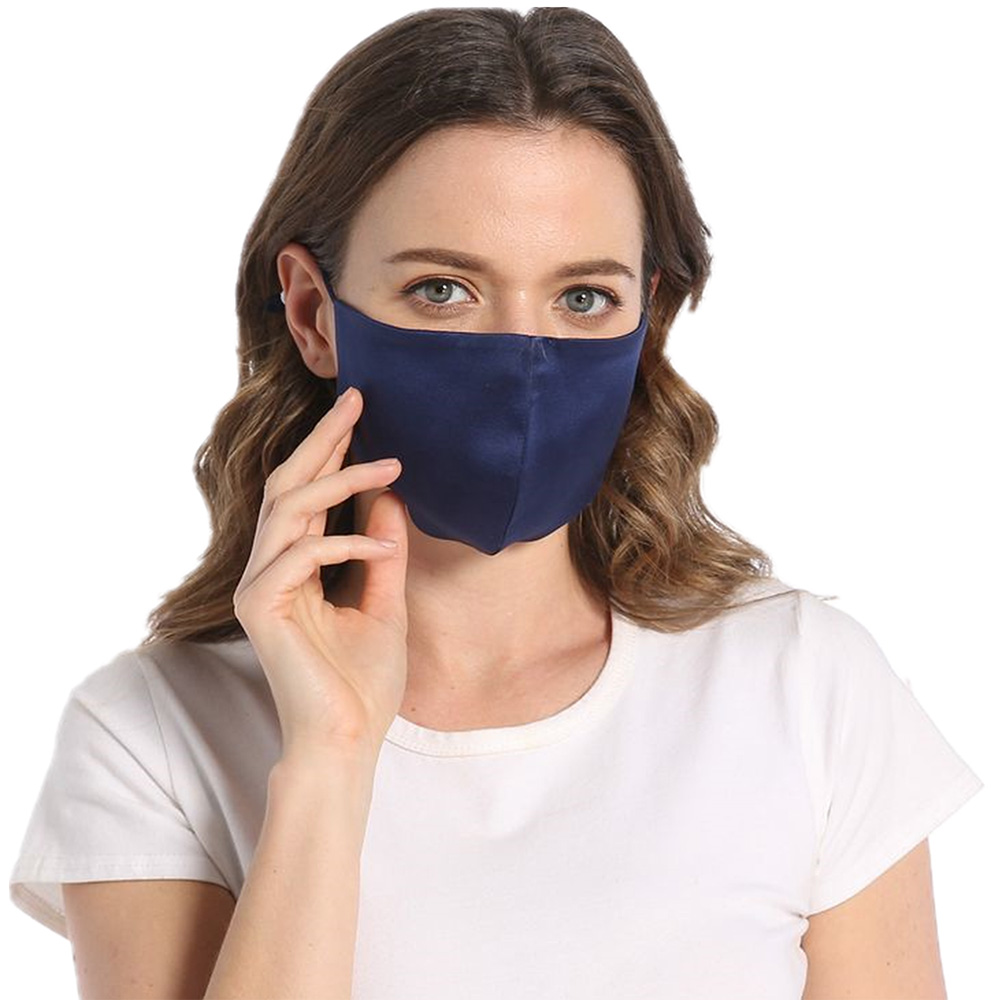 Navy
This breathable navy blue face mask can be used on any occasions.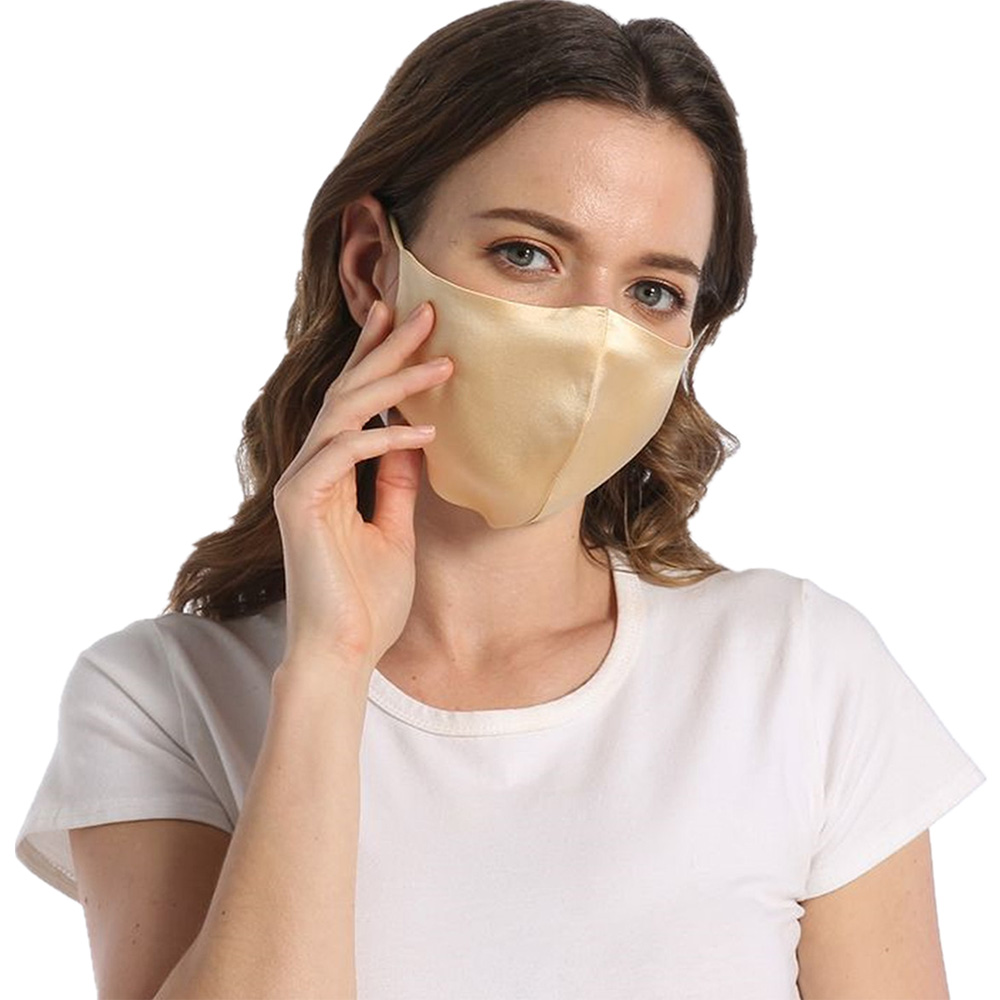 Gold
This breathable navy blue face mask can be used on any occasions.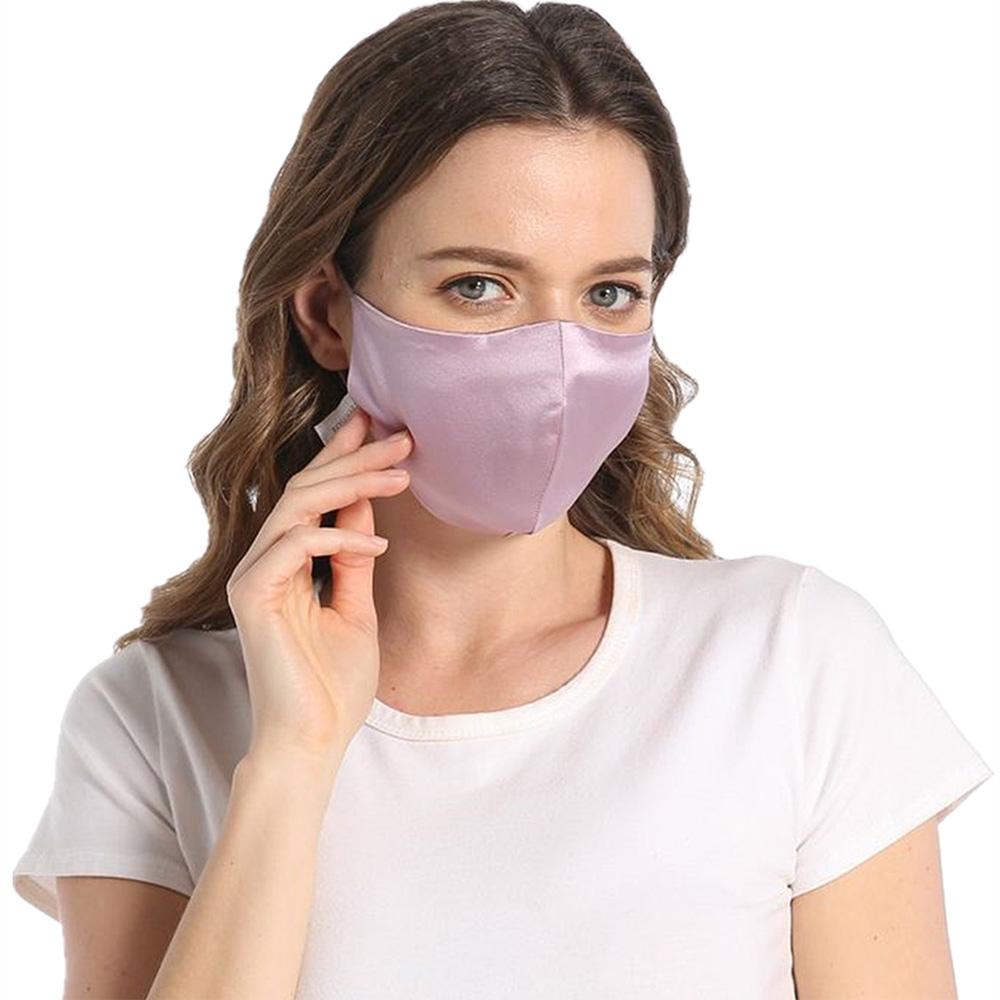 Light Purple
Among all colored women face masks, this light purple lavender is so cute and fashionable.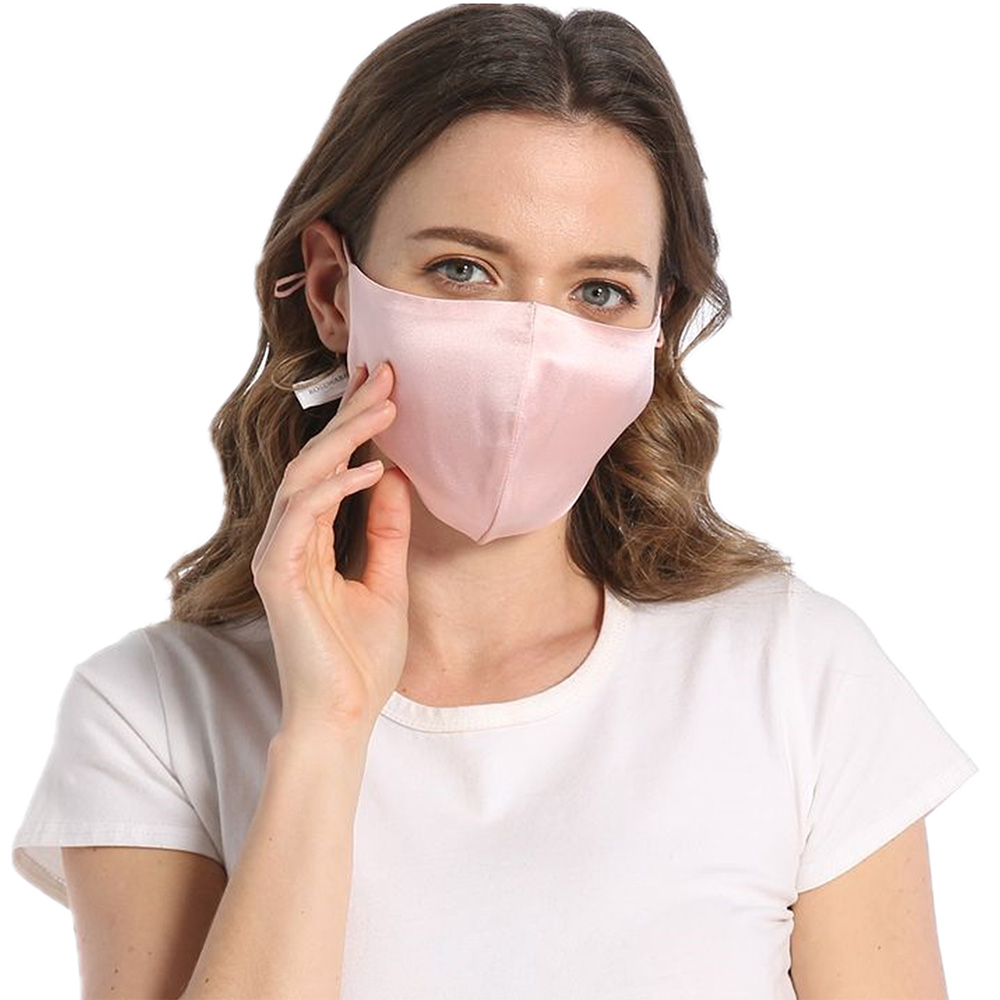 Pink
This pink face mask is women's favorite, chic and beautiful.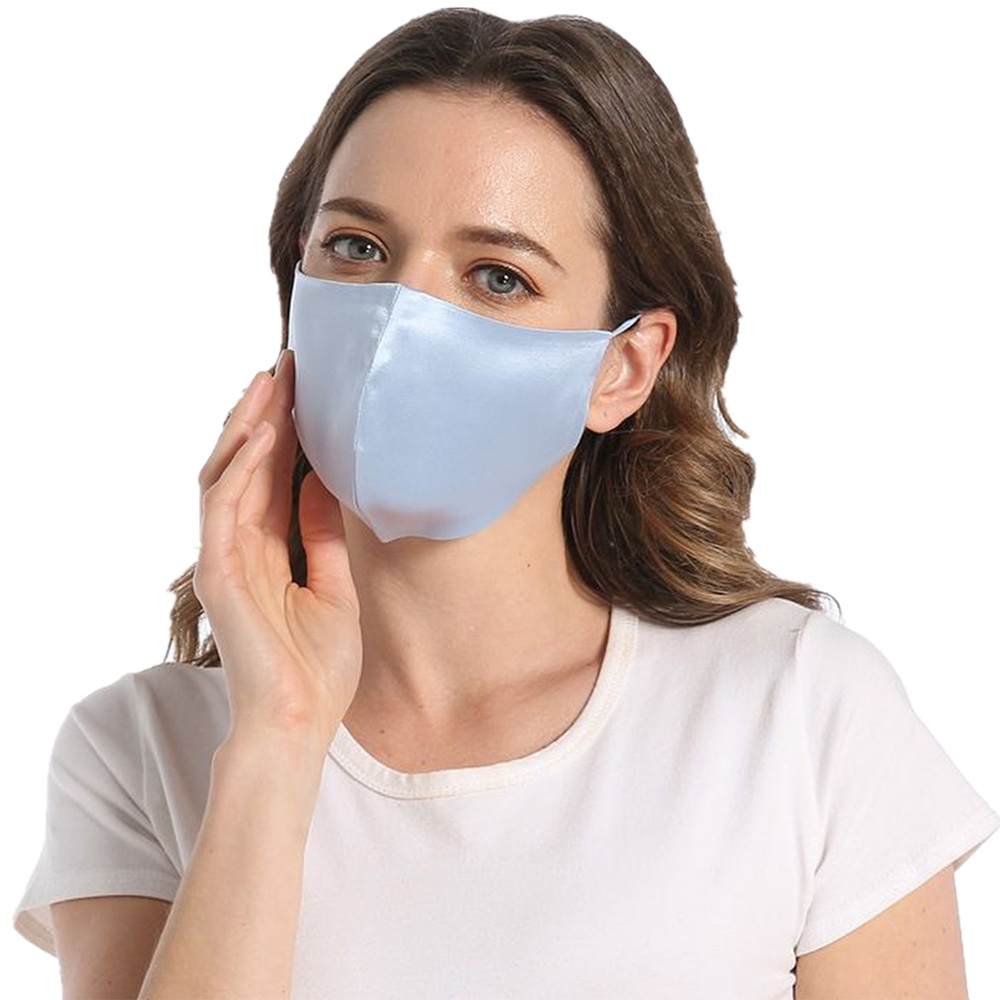 Ribbon Blue
This blue face mask is perfect for medical or wholesale workers.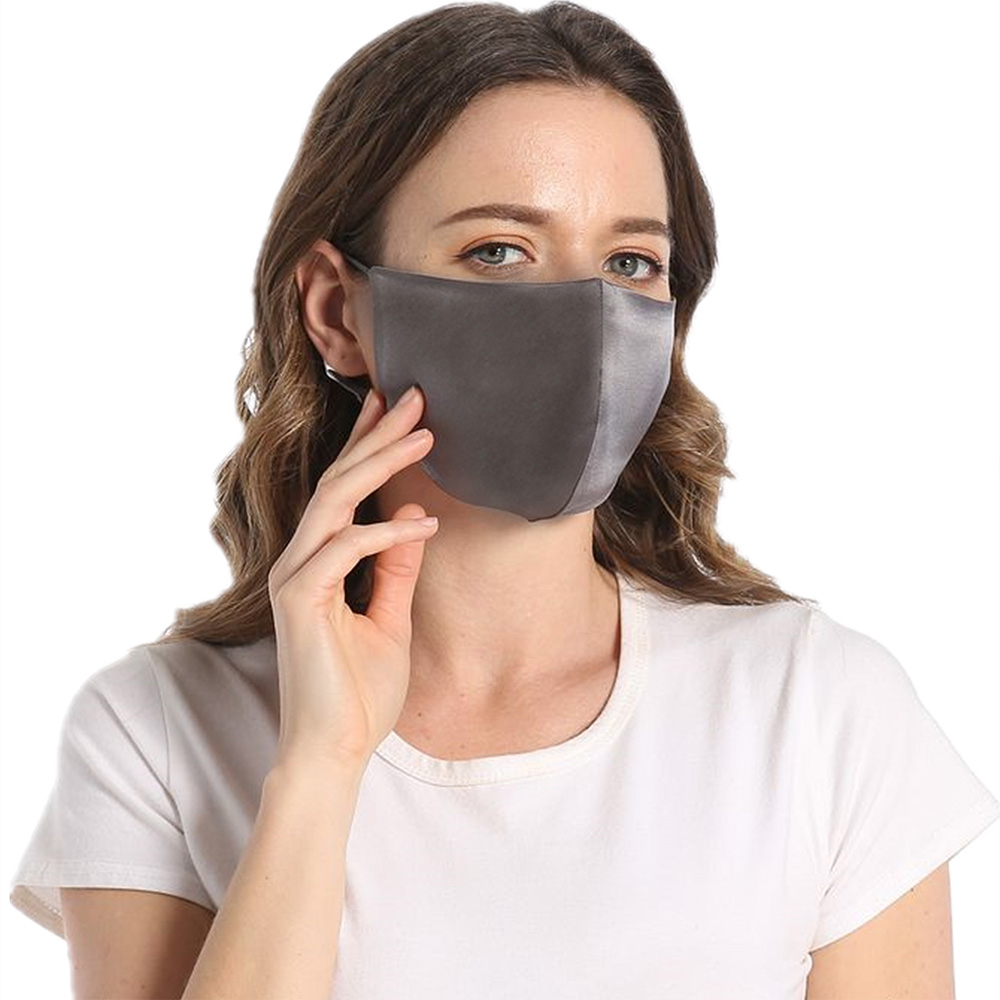 Taupe
This chic dark grey face mask is most popular at wedding. It's also a top pick mask for women.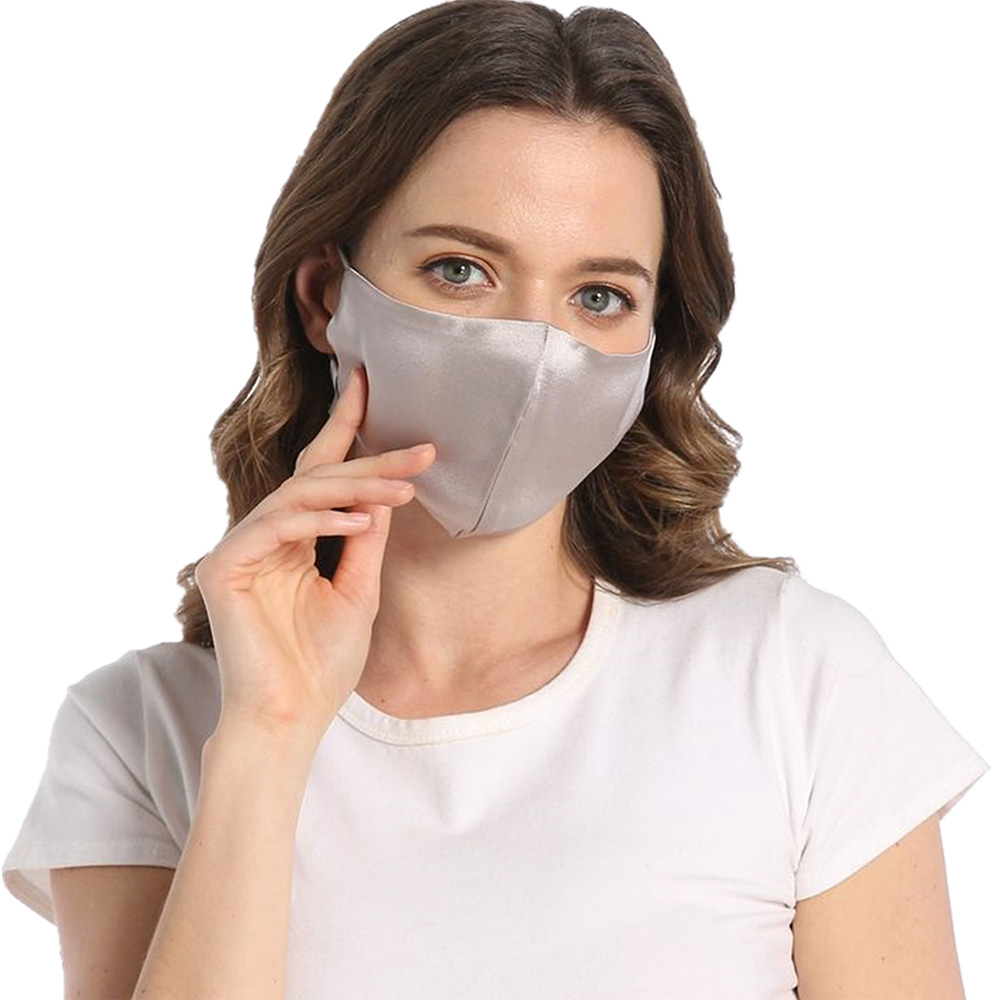 Light Grey
This silver grey face mask is even more soft, comfortable and breathable.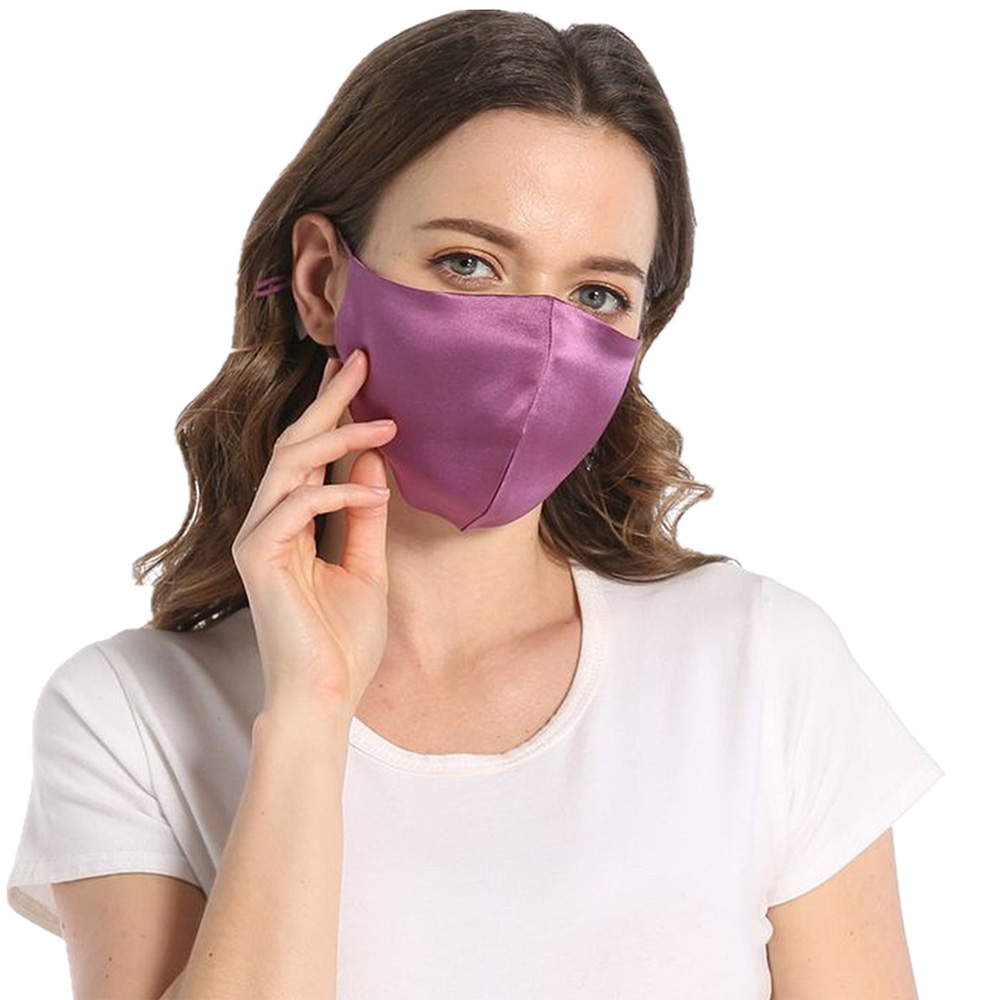 Dark Purple
If you are looking for a gorgeous purple face mask, this is the one.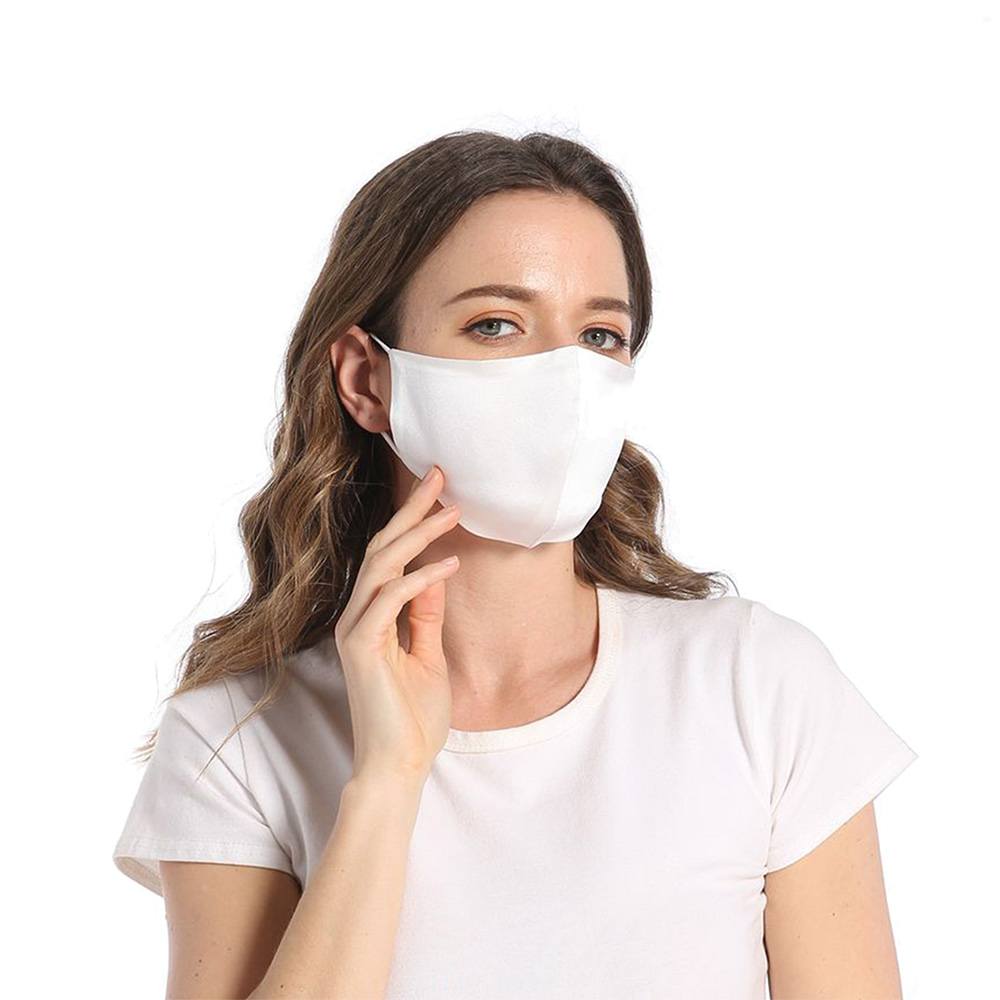 Ribbon White
You can always choose one from all our 12 colors, and they are made of real silk!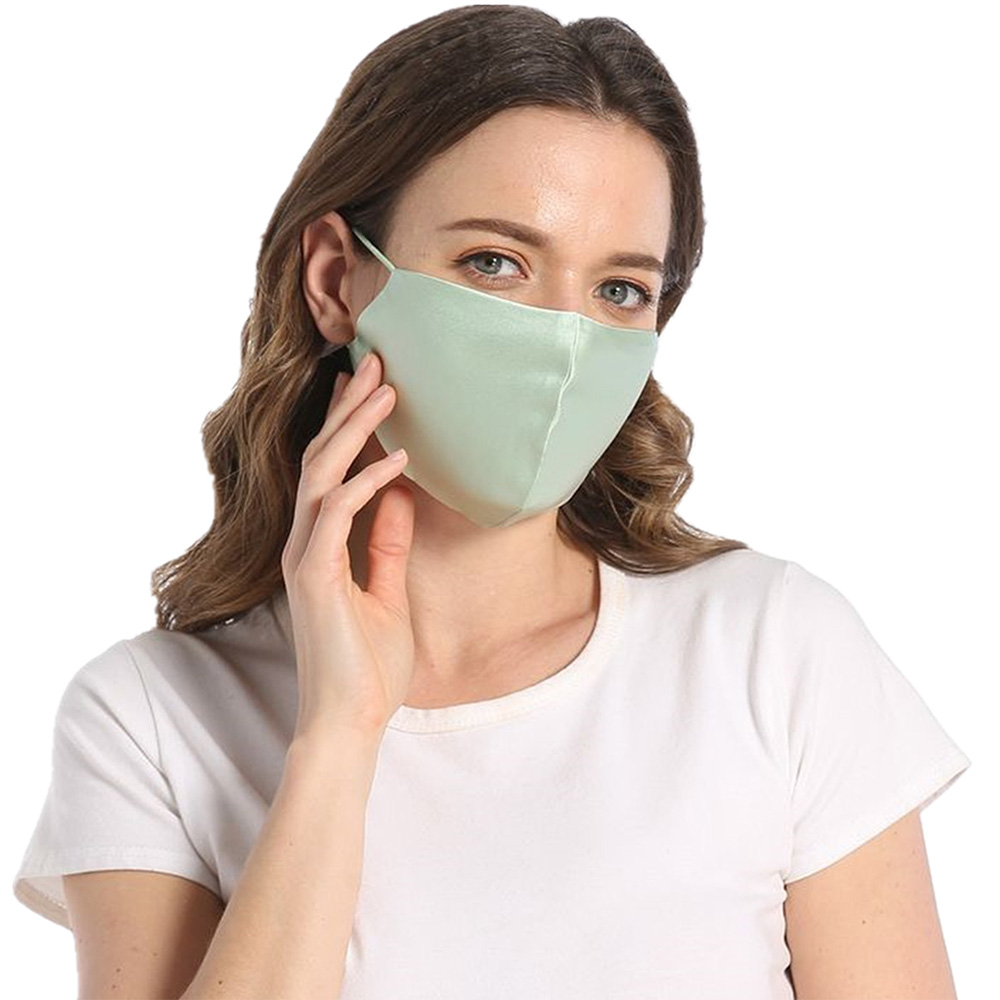 Pea Green
You'll get complements everywhere you go by wearing our silk face masks.

I love this mask! I've been wanting to try a silk mask because of the skin benefits. My skin was getting irritated wearing regular Collin masks at the gym. This one is super soft and feels great against my face. The fit is great since it has the adjustable ear loops. I definitely plan on buying more.
Pros:- Silk is natural fiber; I hope it'll reduce acne problems- Neutral color, suitable for various attire- Adjustable ear hoops- Reasonably pricedCons:- Sides puckers, especially right- Middle seam hard to keep straight- Sound mumbled; less breathable than scarf-maskI decided to keep, rather than take a chance with another one that would be less pleasing to me.
I wear a mask anywhere between 6-9 hours a day for work, over the summer I started to notice a super bad rash/acne/maskne problem with my sensitive skin. I started breaking out really bad even after using different masks. After seeing a dermatologist and switching my mask to this one it's been soooo much better on my face. It's soft and doesn't irritate my skin. It's very comfortable and doesn't slide down my face or go into my mouth when trying to breath. I hand wash it with a gentle detergent and hang dry it, I didn't even have to iron it. Well worth the money and highly recommended for people wanting a durable, comfortable face mask.
I was concerned the fit would be too small, but no need. Large enough for a woman from bridge of nose to bottom of chin. Definitely is double layer of silk. Crease from packaging that I will steam out. Perfect for special occasion. Small opening on one side to push a small filter into. I am going to order more in different colors. Shipping was quicker than I expected!
Mask feels nice against my face, and with the adjustments on the ear elastics; it feels secure. The opening for the filter is quite small as I can personally only fit to the proximal inter-phalangeai joint of my right index finger which makes it tuff for filter insertion. Other than that, it's a great mask and I would purchase again.
This product seems to have a good quality silk material. I like how soft the silk material. The color of the mask is the same as it shown on the page. It wrinkle after wash so i have to iron it.It's definitely hard to breath and talk with this mask but thankfully I found a solution for it. I bought a 3D silicon face protector and put that under the mask and I was able to breath and talk under this mask.So if u care about breathing and talk better you definitely should get the 3D silicon face protector also.I gave it only 4star because it's hard for me to breath under this mask if I didn't use the face protector.
These masks are so soft and comfortable! The straps are adjustable so you can get the perfect fit (without hurting your ears). Very pretty and simple. The silk is so incredibly soft. I highly recommend trying these out - love it!
Customers who bought this item also bought